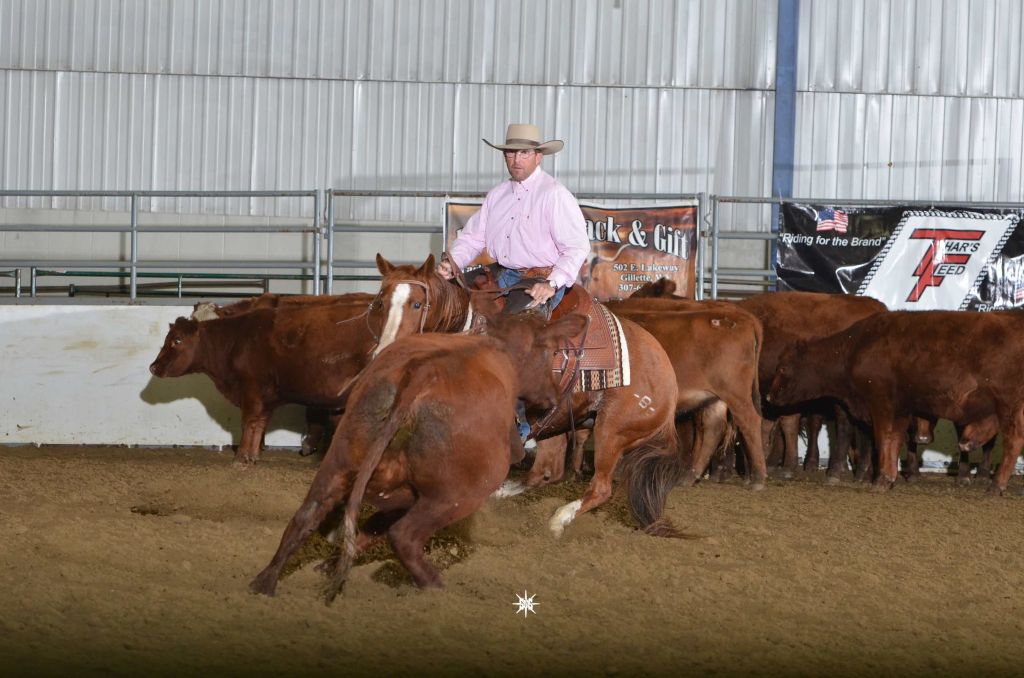 Morgan, Justin
Justin Morgan has been starting horses and training horses for over 20 years. He has made a living starting outside colts and some of his own for many years, but around 2010 he started dreaming of bigger things. He first started showing cow horses after attending a clinic with Cathy Coleman and Tim Unzicker. From that time on, he was hooked on the Cow Horse competition. Justin's first couple of years showing, he did so as a level 1 limited open rider. He did really well locally, but the bigger shows taught him that he needed more horse power. He took his first horse to the Snaffle Bit Futurity in 2012. He finished in the middle of his class, and learned a lot. His favorite story from the experience was when he was riding into the cutting pen with 4 of the worlds best showmen in the corners, and Teddy Robinson told him, slow down. He slowed down, and then Teddy said, "You can cut that in half." He thought he was going slow, but this comment made him slow down some more. In 2015 the wins started stacking up with his horse called "Little Miss Pepinic."



Now, each year, Justin takes his prospects to the cow horse shows looking for the next great one, and in the meantime with each horse, he studies, practices, and works to take his riding skills to the next level. Starting colts with the intent to show them fine tunes the skill of the rider and the horse. While every horse doesn't have the same abilities, they all get the same exposure to ranch life. They all get hauled extensively. They go to the feedlot, they gather desert hills, mountain pastures, the branding pen, and then they still go to the arena too. No matter where they are, each ride, they are taught position on a cow, how to be strong on the end of the rope, loping circles, neck reining, and responsiveness, They learn all the things that make them easy to ride and fun to rope on. The amount of horse power that you have makes all the difference in the level of competitiveness that you achieve. And, while Justin is hoping for another champion, he has used his skills as a trainer to make each horse into the most it can be. In the meantime, he is still starting colts and riding colts and day working on ranches, riding everyday, checking cows, doctoring calves, and doing everything horseback that can be done from the back of a horse.



Justin always takes extra time with all the new little cowboys and cowgirls to help them learn the trade, and that combined with riding a fine horse on a hot summer day or a cold winter morning gives him the sense of accomplishment that every hard working cowboy needs.